About Flâneur
The Flâneur is an idea originating with the French poet Charles Baudelaire in the mid-19th century. Baudelaire made the observation that many people were strolling thru the arcades of Paris seeking an authentic experience in an unstructured way. He believed that looking at the world with a sense of curiosity and at a slow pace could reveal a life of significance. Similarly the French philosopher Kierkegaard said "the mind functions optimally at 3 miles per hour." The turtle walker signifies that pace, the slower you walk the more you observe and the more you learn.
Sometimes in life you need to go slow, to go fast.
I first read about the Flâneur in the book The Black Swan, by Nassim Taleb. He described a person sitting in a cafe on the streets of Paris with no agenda but to observe the crowds and just be. At the time my life was going fine, but going too fast. My curiosity was peaked and I began to research more about the Flâneur. The idea of slowing down was foreign to me. Once I slowed down and observed the world around me, observed nature, a life of significance was revealed. J.R.R. Tolkien describes it succinctly, "not all who wander are lost."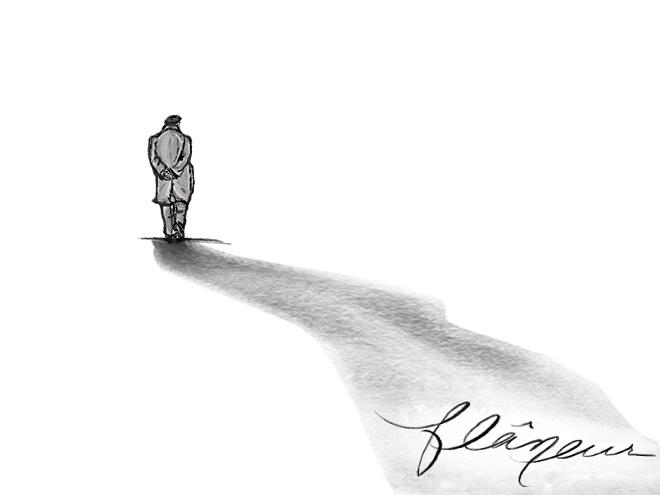 Our Philosophy:  Love what you do, why you do it, and whom you do it with
We are farmers first.  Mother Nature's sons and daughters.  When you visit our vineyards you will not see a perfectly manicured field of vines.  You will see a healthy ecosystem of vines growing delicious fruit.
Why?  We love nature.  We love wine.  We plan our meals around what wine we want to drink. We put our hearts and souls into everything we do. We do this by farming organically, making wine from the soul instead of from a book, being welcoming to our guests ,and being generous and helpful to everyone along the way.  The results are delicious wines. We do it in a place we love, Oregon.
Life is too short to spend it with people you don't like and respect.  We are a small and tight-knit team.  When you are growing grapes and making wine, there are some long days that run into long nights.   During harvest those days and nights run into weeks, spending every hour together.  Our team is as diverse as it gets, from all corners of the country, but with a common goal: Excellence in everything we do.